BMW 3.0 CSL/3.6 CSL
BMW coupés were among the dominant cars in the European Touring Car Championship and the German Motorsports Championship in the early nineteen-seventies. Jägermeister concluded a partnership agreement with Alpina in 1973. The Jägermeister coupé was driven by Niki Lauda, who then began his fantastic career in Ferrari's Formula 1 team in the following year (1974). Wins by Lauda and his co-driver Hans-Peter Joisten in the Jägermeister BMW in 1973 included the 24-hour race on the Nürburgring and third place in the Touring Cars Grand Prix. The Jägermeister BMW was completely destroyed in July 1973 when Hans-Peter Joisten suffered a fatal accident in this car in the Spa 24-hour race.
Because Lauda's original car no longer exists, a replica was created. These reproductions are entirely permissible nowadays in historic motorsport racing, especially since originals – which are really "mobile antiques" – can thus be conserved. The replica presented here was constructed on the basis of an original CSL dating from 1973. The car is roadworthy.
Such reproductions, which largely correspond to earlier originals, will be built by "'72STAGPOWER" in future and also sold as unique one-offs. However – in accordance with "'72STAGPOWER"'s claim – these replicas must have been modelled on a car in the Jägermeister racing team and must have the engineering of that era.
The racing version of the CSL, as sent to the starting grid at that time by Alpina (and by the trio of engineers Bovensiepen, Hack and Indra), caused a sensation in 1973 because of its rear wing – which at that time was still unusual. At the wheel of the Alpina BMW and "winged" in this way, Niki Lauda was able to lap the Northern Loop, which is 22.8 km long, in the superb record time of 8:17 minutes. Which is faster than all the BMW and Ford works cars.
In the 1973 season, the Alpina 3.0 CSL (like the BMW works cars) initially had a 3.3 litre six-cylinder engine delivering around 360 hp at 7800 rpm. Alpina subsequently increased the capacity to 3.6 litres and achieved 372 hp (at 8100 rpm).
Niki Lauda delivered glittering performances in the Alpina BMW CSL in the 1973 season. He won the 24-hour race on the Nürburgring (supported by his co-driver H.P. Joisten). Lauda drove a sensational record lap of 8:17.3 minutes in the Touring Car Grand Prix on the Nürburgring. In its top version, Jägermeister's Alpina with its 3.6 litre M 52/2 engine provided around 380 hp at 8200 rpm. Top speed: around 290 km/h.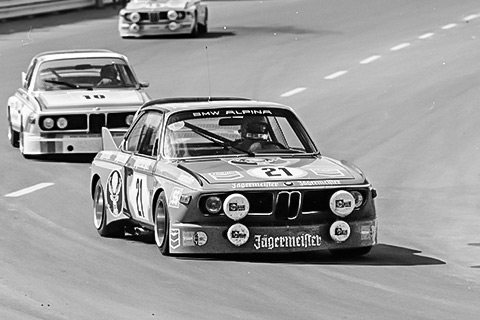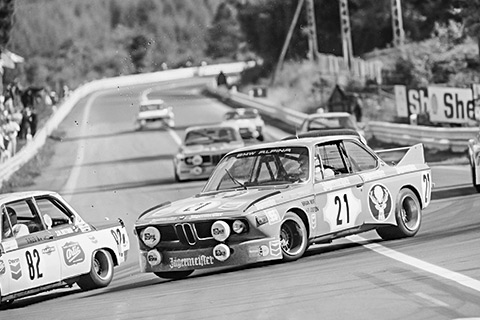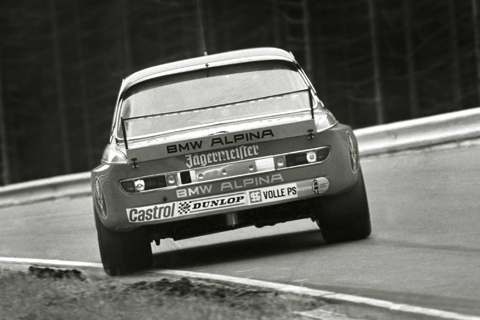 Details
Weight: 1080 kg
Capacity: 3,3 Liter // 3,6 Liter
Power: 360 PS ~ 7800 U/Min. // 372 PS ~ 8100 U/Min.
Top speed: 285 km/h
Vehicle is in stock of '72STAGPOWER.
Pilots
Niki Lauda
Hans-Peter Joisten
Brain Muir
Toine Hezemans
Derek Bell
Harald Ertl
James Hunt
Jaxky Ickx