BRABHAM  BT 38  FORMEL 2
Formula 2 has enjoyed a quite outstanding position in motorsport racing since 1959. This category was in no way second-class (as the term "Formula 2" might suggest), but was first class. There were reasons for this. Formula 1 always ranked above it because the world championship was always decided in this Grand Prix category, but Formula 2 was also always the stage for the absolute elite until the mid-nineteen-seventies. Formula 1 drivers were regularly on its starting grid. Not only because of the sporting challenges, but because Formula 2 races were highly attractive, drew enormous spectator numbers (regularly more than 100,000 spectators in Hockenheim) and because there was money to be earned in the "F2".
Formula 2 racing cars had 1.6 litre engines from 1967 until 1971, and 2 litres from 1972 onwards. This rule change also included a provision that the engine block and cylinder head must now originate from a series production car of which at least 1000 vehicles/year left the assembly line. This was why almost all the racing cars were fitted with 16-valve Ford Cosworth engines. Cosworth bored out these so-called Ford-BDA engines to a maximum capacity of 1930 cc. They then provided 275 hp at engine speeds up to 10,000 rpm. At a vehicle weight of 450 kg, these racers were enormously temperamental. Racing car marques competing in this class included Brabham, Chevron, Lotus, March and Surtees.
"At Number 1 position on the starting grid you will see two-time world champion Graham Hill." This battle-cry by track announcer Jochen Luck in April 1972 drew every eye in the 100,000 spectator crowd to an orange-coloured racing car. 1972 was the first year in which Jägermeister entered motorsport as a sponsor. The first ace in Jägermeister's racing team was Graham Hill. The Briton, who had been Formula 1 world champion in 1962 and 1968, drove a Brabham BT 38 in Jägermeister colours. Jägermeister bought this car with chassis number BT 38-1 for Graham Hill. The car later passed into Graham Hill's ownership. His Hockenheim debut was like a motorsport sensation. Hill's wins with the Jägermeister Formula 2 in the 1972 season then inc luded the Lotteria Grand Prix in Monza.
Marlboro-Swiss bought the Brabham BT 38 with chassis number BT 38-21 for the Swiss Formula 1 driver Silvio Moser in 1972. This Brabham BT 38 was acquired by the young Fredy Amweg, the Swiss "Hill-climb King", in 1973.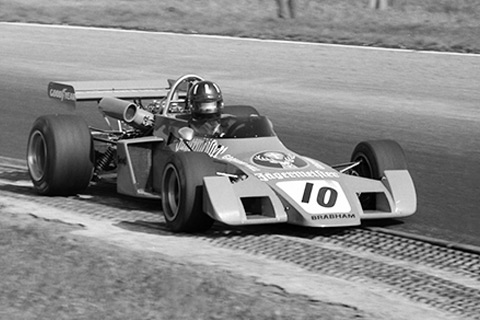 Details
Weight: 450 kg
Capacity: 1,6 – 2,0 Liter (1930 ccm)
Power: 275 PS ~ 10000 U/Min.
Top Speed: 285 km/h
Vehicle is in stock of '72STAGPOWER.