MARCH-COSWORTH  FORMULA 1
This former March company works car with chassis number 761/5 is a hybrid product – as the majority of racing cars and motorsports cars are by their very nature. A vehicle is built and then undergoes continuous further development and optimisation in subsequent years. So the original vehicle undergoes constant change.
Formula 1 had a three-litre engine size in the nineteen-seventies 1970. Most teams (including March) used V-8 Cosworth engines delivering around 480 hp at 11,200 rpm.
This car's history began with chassis number 741/1 in 1974. Hans- Joachim Stuck drove the car for his Formula 1 debut. However, he collided with James Hunt in the Monaco Grand Prix. The March suffered considerable damage. So Stuck was given an entirely new car with chassis number 741/1-3 for his "home premiere" in the 1974 German Grand Prix on the Nürburgring. With this car, which ran in the Jägermeister look, "Strietzel" finished seventh.
The March 751/4 was built during the winter for the 1975 season from components of the 741/1 damaged in the Monte Carlo and the chassis of the car 741/1-3, also driven by Stuck. This car was never used for racing, but was available as a spare car specifically for Lella Lombardi in the 1975 World Championship races. 751/4 was also used as a test car by Lella Lombardi and Vittorio Brambilla.
Then – corresponding to the technical trends at that time – this March 751/4 was rebuilt as a six-wheel racing car and presented by Max Mosley and Robin Herd at the Rothmans Press Meeting in Silverstone on 8 February 1976. The car completed test circuits with lan Scheckter and Howden Ganley at the wheel. The six-wheel model was rebuilt back to a four-wheel car in the 176/77 winter and sold to Brian Henton. Because of the technical specifications for 1976, the Formula 1 car was now given the number 761/5, which it carries up to the present day. Among other things, Brian Henton finished fourth in the Brands-Hatch Race of Champions in this care in 1977.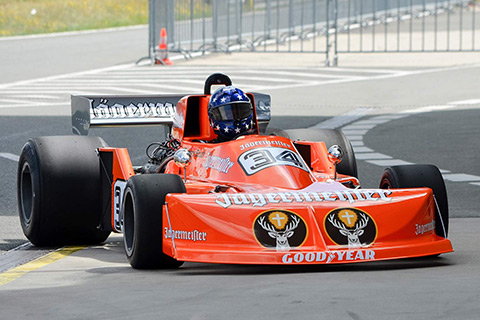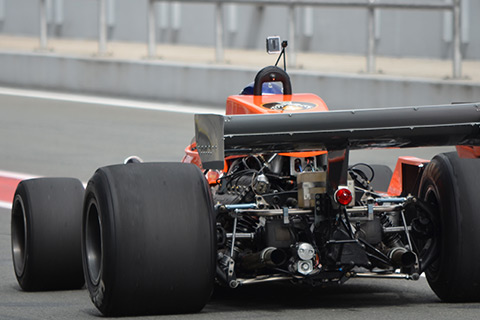 Details
Weight: 480 kg
Capacity: 3,0 Liter
Power: 480 PS ~ 11200 U/Min.
Top Speed: 310 km/h
Vehicle is in stock of '72STAGPOWER.