THE "SPORT EVOLUTION" TYPE BMW M3
The German Touring Car Championship (DTM) experienced a golden age in the early nineteen-nineties. There were several reasons for this. First of all: there were several competing marques, namely Audi, BMW, Mercedes, Opel and Ford. And it took place both with purely works cars and with works-supported teams. There were 28 cars on the starting grid, crewed by absolute top-class drivers. These included illustrious names: Rosberg, Stuck, Winkelhock, Biela, Pirro, Ludwig, Schneider, Cecotto, Ravaglia, Hahne, Thiim, Soper and Lafitte. The races were extremely exciting and turbulent, because the engine performances and the weights of the cars were very close together. There were two races on each day of racing, and even Saturday gave the fans a qualifying race in which drivers battled for position 12 onwards on the starting grid for the following Sunday.
The BMW M3 with chassis number M3 122 607 was fully rebuilt in the 1991/1992 winter. This was done by the Linder team, who were able to rely on components from BMW Motorsport. However, a kind of two-class society existed even among the BMW teams, because the Schnitzer, Fina and Bigazzi teams were always the first to receive advanced developments by the works. In this respect, life was always tough for Linder and the other BMW teams (e.g. Isert) in this championship in which every tenth of a second counted.
The car now on display in "'72STAGPOWER" is the original M3-Linder BMW driven by Armin Hahne in the 1992 DTM season. Hahne was again given a fully newly rebuilt car for the last two races in this year, and the ex-Hahne car was driven on the Nürburgring and in Hockenheim by an ace, namely ex-motorcycling world champion Wayne Gardner (Australia), who made his motorsport debut in this Jägermeister-M3 and thrilled the spectators to storms of enthusiasm by his furious, aggressive style of driving. The Linder M3 also competed in the 1993 DTM, but – with a private driver at the wheel – was unable to win any leading positions. The M3 subsequently moved into the historic racing scene.
Some technical data for the "Sport Evolution" M3: a 2493 cc 4-cylinder engine yielding 370 hp of power at 8750 rpm. Empty weight 980 kg, maximum speed in the longest gear ratio: 290 km/h. Another Jägermeister-M3 also already took part in the 1988 racing season.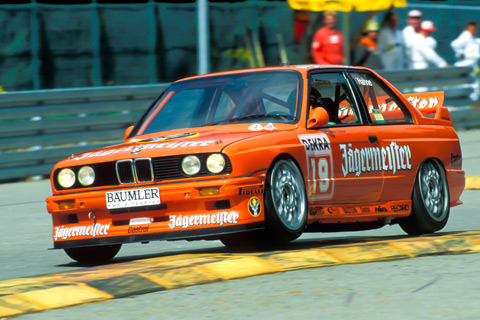 Details
Weight: 980 kg
Capacity: 2,5 Liter (2493 ccm)
Power: 370 PS ~ 8750 U/Min.
Top Speed: 290 km/h
Vehicle is in stock of '72STAGPOWER.
Pilots
Armin Hahne
Wayne Gardner
Mario Ketterer
Poldi von Bayern
Frank Schmickler