PORSCHE 956
The Porsche 956 in what was called Group C (which was the category's official name) first came onto the racetracks in 1982 and immediately dominated not only long-distance world championships (including Le Mans), but also sprint races to an equal extent (like the German Racing Championship and the Interserie). Depending on the boost pressure, the six-cylinder turbocharged engines delivered between 650 and 750 hp. The 956's minimum weight was 850 kg, and top speed was around 380 km/h. The revolutionary feature of the 956: Porsche made the ground effect from Formula 1 usable by prototypes for the first time. The consequence was phenomenal cornering speeds, which put an enormous stress on the drivers' mental powers.
The Porsche 956 also raced in Jägermeister colours in 1984, 1985 and 1986, and did so in the Swiss Brun Motorsport team. It scored the greatest success: a victory by Stefan Bellof in the Deutsche Rennsportmeisterschaft in 1984, two victories by Bellof in the Norisring races in Nürnberg and first place for the Bellof/Stuck team in the World Championship race in Imola, Italy, in 1984.
Of course, a Porsche 956 now also stands in '72STAGPOWER (chassis number 106). It's a car that initially raced in Richard Lloyd's British team (with drivers such as Keke Rosberg, Jan Lammers and Jonathan Palmer). This Number 106 was then sold to Team Brun in 1985. The first entry in orange: in the Hockenheim 1000-km race in July 1985. Gerhard Berger/Walter Brun finished in sixth place. The "106's" were then driven for example by Hans-Joachim Stuck, Oscar Larrauri, Frank Jelinski and Walter Brun.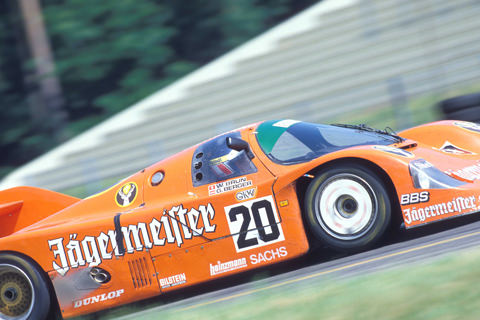 Details
Capacity: 2,6 Liter (Turbo)
Weight: 820 (later 850 kg)
Power: 640 – 750 PS
Top speed: 380 km/h
Vehicle 956 106 (1983 model) is in stock of '72STAGPOWER.
Pilots
Stefan Bellof
Hans-Joachim Stuck
Gerhard Berger
Walter Brun
Harald Grohs
Thierry Boutsen
Frank Jelinski
Poldi von Bayern
Oscar Larrauri