BMW 320 Group 5
A new rule was introduced into motorsport in 1976. It applied to the Manufacturers' World Championship, which was the second most important championship (after Formula 1). This involved scoring in two categories: up to an engine capacity of two litres and above two litres. The cars (official designation: Group 5) were so-called "silhouette cars". They had the same outline as touring cars or GT cars, but the engineering under the bonnet was purest racing car technology.
For the two-litre class, BMW developed a racing car based on the new Type 320 BMW. These cars (with drivers including Surer, Cheever and Winkelhock, and later with Stuck, Peterson and Grohs) appeared in the DRM (i.e. in the German Racing Championship) and in the Manufacturers' World Championship from 1977 onwards. In 1978, BMW supplied components (and complete kits) for more than 30 cars. Altogether, probably 36 factory-based 320s in Group 5 were constructed. They weighted about 730 kg and had the same two-litre engine that was also used in Formula 2 racing cars. This engine was the M 12/7, a four-valve engine delivering about 330 hp and turning at 10,000 rpm.
Later there were turbocharged engines turning out 500 hp. GS Freiburg used a 320 works car of this kind with a turbocharged engine and in Jägermeister colours in the 1979 season. It was driven by Markus Höttinger. The BMW engine under the bonnet of this 320 was the precursor of the engine that subsequently powered BMW's Formula 1 racing cars and delivered more than 1000 hp.
The car acquired by the Jägermeister company in late 1978 was the 29th in this small series. It bears chassis number E21 R1-29. This 320 was built by the GS (Gerhard Schneider) team in Freiburg, using components supplied by the BMW works, and was used from mid-1978 onwards. It was driven by BMW's works driver Markus Höttinger. The Jägermeister company acquired this car for the 1979 season. It continued to be looked after by GS and later by Wolber Motorsport (also in Freiburg). This Group 5 320 – driven by Eckhard Schimpf (Braunschweig) – competed in around 80 races in 1979, 1980, 1981 and 1982. The 320 racing car, restored to tip-top condition, now stands in '72STAGPOWER's hall, having passed its first roll-out on the Oschersleben circuit with flying colours.
This BMW, with Eckhard Schimpf and BMW's works driver Hans-Georg Bürger at the wheel, won the World Championship two-litre category in the 1000-km race on the Nürburgring. The car was fitted with a works engine specifically for this World Championship race. Schimpf/Bürger finished 6th in the overall classification. The BMW with Schimpf/Fischhaber/ Ketterer finished the 1000-km race in 10th place in the overall classification in 1980, and this BMW came home in overall 4th position in 1982 (and simultaneously second in Group 5).
This car's many first places include a series of wins in European hill-climb championship races. Examples include: Trento Bondone/Italy (1980 and 2982), the Austrian Alps hill-climb prize (1980), Turkheim-Trois Epis (Three Peaks)/France (1980 and 1981), Ampus Draguignan/France (1982), Freiburg-Schauinsland (1982), the Swiss Hill-climb prize in Les Rangiers (1981 and 1982), Bozen-Mendola/Italy (1981) and Copa Sila/Italy (1982). The Jägermeister BMW 320 was also on the starting grid in races for the DRM, the last time being in 1980 at the DRM final in Hockenheim (finishing 6th).
BMW already entered two BMW 320-Group 5 cars in Jägermeister colours in the German Motorsports Championship and in the Manufacturers' World Championship in the 1977 season through the Faltz team (in Essen). The drivers were: Hans-Joachim Stuck, Harald Grohs, Helmut Kelleners and Ronni Peterson.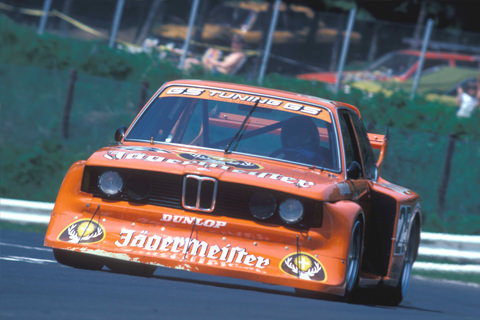 Details
Weight: 765 kg
Power: 330 (Sauger) – 550 PS (Turbo)
Pilots
Hans-Joachim Stuck
Harald Grohs
Ronni Peterson
Helmut Kelleners
Eckhard Schimpf
Hans-Georg Bürger
Mario Ketterer
Toni Fischhaber
Markus Höttinger