PORSCHE 917/30
The Porsche 917 was undoubtedly one of the most famous, most sensational racing cars of all time. The order to build this "weapon" was given in 1968 by Ferdinand Piëch, Porsche's Head of Engineering and Motorsport at that time. The aim was to transform Porsche from a class winner into an overall winner. Into a manufacturers' world champion. Against Ferrari, Alfa Romeo and Ford (at that time with the GT 40).
The Porsche 917 won its first race, the Austrian Grand Prix, with Kurt Ahrens/Jo Siffert in 1968. Porsche no longer had any opponents from then on. The 917 had such superiority in the World Championship in 1970 and 1971 that the World Association (FIA; the International Automobile Federation) changed the rules. The Porsche was no longer allowed to start. But before that happened, Piëch had already devised a miracle weapon: the Turbo-917 for the American Can-Am series.
The last stage in the 917's growth was the 917/30 with its 12-cylinder engine enlarged to a capacity of 5.4 litres, which thanks to its turbocharger, delivered 1,100 hp (and reached 1,200 hp with a higher boost pressure). Porsche won all the races in the Can-Am series in 1973.
Since there were no longer any opponents worldwide, Porsche also wanted to present this giant in the Inter series in Germany as well. In Jägermeister colour. The car involved was the Porsche 917/30 with chassis number 001. Initially it was Porsche's test car, but then it also experienced its racing premiere in the South West Cup race in Hockenheim in July 1973. In orange. At the wheel: Porsche works driver Vic Elford. And he won – of course!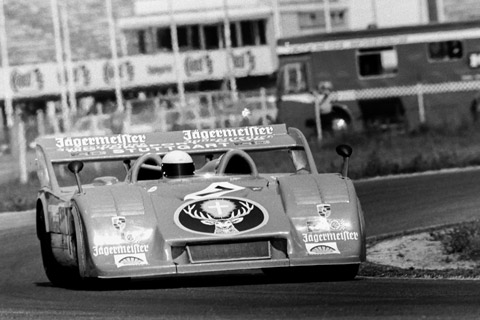 Details
Weight: 820kg
Capacity: 5,4 Liter
Power: 1100 PS
Top Speed: 400 km/h