FORD SUPER-CAPRI
The special touring cars category (Group 5) brought forth pure-bred racing cars that really had hardly anything in common with the term "touring car" any longer. These technically high-class cars competed in the Manufacturers' World Championship (and naturally in the Le Mans as well) between 1976 and 1982, as well as in the German Motorsports Championship.
Erich Zakowski's Zakspeed horsepower smiths initially developed a "small" turbocharged Capri for the two-litre division of the German Motorsports Championship. Porsche 935s were unchallenged matadors in the "over two litres" division. In 1980, Zakspeed quite suddenly unleashed a Super Capri (with Klaus Ludwig at the wheel) against this Porsche mob. Although its four-cylinder 1745 cc turbocharged engine delivered "only" 600 hp, it weighed 200 kg less than a Porsche 935 (800 hp). And the Capri excelled due to an extreme diffusor technique. Ford's designer Thomas Ammerschläger summed it up in one sentence: "We achieved so much downforce that in theory, at 280 km/h and above, the Super Capri could even have driven on a ceiling."
For 1982 and 1983, Jägermeister concluded a contract with Ford relating to entering a new Group C racing car. However, this "flounder" never really got off the ground. And that was why, in 1982, Zakspeed always brought the Super-Capri (now in Jägermeister livery) out of the garage if the Group C Ford weakened again. Klaus Ludwig always put on a brilliant show in the Jägermeister Super-Capri on such occasions.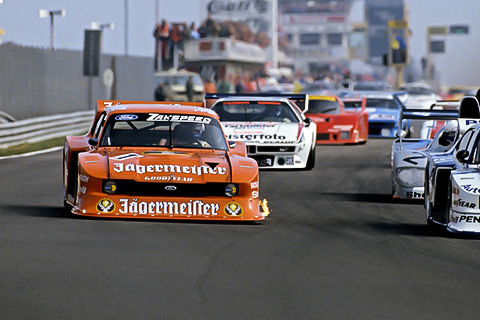 Details
Weight: 780 kg
Capacity: 1745 Liter
Power: 600 PS (Turbo) ~ 6400 U/Min.
Top Speed: 300 km/h