FORD KLEINT-CAPRI RS 2600
After its debut in 1968, the Ford Capri experienced a really sensational wave of sympathy. This coupé has kept its high ranking in the classic car scene until the present day. Of course, the Ford Capri had an exceptional past record in motorsport as well. Duels between the BMW CSL and the Ford Capri in the early nineteen-seventies are among motor racing's highlights. At that time, Ford even engaged aces like Jackie Stewart or Emerson Fittipaldi for Capri cockpits. The works drivers were top-class drivers like Jochen Mass, Toine Hezemans, Dieter Glemser et al. When bored out to three litres, the six-cylinder engine delivered around 330 hp at 7600 rpm The Ford Capri RS 2600 also played a role in rallying, and Walter Röhrl, the absolute German "rally legend", began his professional career in just such a Ford Capri. In 1971 and 1972 he drove in the team managed by "Ernie" Kleint from Hamburg, who enjoyed support from the Ford works and also employed his brother "Jochi" Kleint as a regular driver.
Two of Kleint's Capris in Jägermeister paintwork – including the so-called "Röhrl car" with the legendary registration HH – RD 950 – ran in the 1973 Monte Carlo Rally. They were driven by Kleint/Zwiers and Schimpf/Zauner, who drove the ex-Röhrl car with start number 203. Whether the original car is still in existence somewhere or other is unknown. Therefore this Jägermeister car is a reconstruction based on nineteen-seventies engineering. Exactly as it drove in "the Monte" in 1973, and even the start numbers are still the originals.
By the way – for the sake of good order: this Capri never saw the finishing line in the Monte Carlo Rally. After an accident that happened to the Capri driver Klaus Fritzinger, who plunged into a deep ravine during a snowstorm in the night not far from Burzet, the road was blocked by rescue vehicles. The rally was halted. The rally directors later decided that only those cars that had already passed the scene of the accident would be included in the assessment. All the remaining cars, approx. 150 – including Schimpf/Zauner's Capri – were excluded from the assessment. Angered at this arbitrary decision, these 150 teams subsequently blocked "the Monte" hours later at Digne. A unique event in rallying.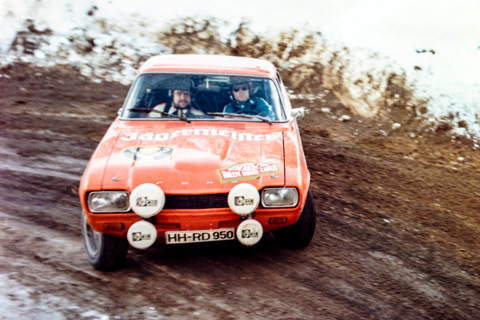 Details
Weight: 900 kg
Capacity: 2,6 Liter
Power: 230 PS ~ 6000 U/Min.
Top Spped: 185 km/h (mit "Monte"-Übersetzung)
Vehicle is in stock of '72STAGPOWER.
Pilots
Eckhard Schimpf
Ernst Johann Zauner