PORSCHE  CARRERA RSR
There is no model in motorsports that was able to remain successful for so long as the Carrera type racing variants of the Porsche 911. These sports cars, with a wide variety of engine types, drove out to thousands of victories. Porsche increased the power of the six-cylinder Boxer (opposed cylinder) engines of the Carreras even more for the 1974 racing season by increasing the cylinder capacity (from 2.7 to 3 litres). The chassis was also optimised. Rubber tyres up to 16 inches wide ran under the extremely "chubby cheeks" of the rear mudguards, and a massive spoiler was mounted on the rear end. Top speed (with the longest gear ratio) was 290 km/h.
The Porsche Carrera RSR with chassis number 911 460 9073 is one of the 42 examples of the type that were built in the Porsche works in 1974. Jägermeister bought it in March 1974 for 79,979.98 Deutschmarks, and it was delivered through the Max Moritz car dealership in Reutlingen. This car was driven by Eckhard Schimpf; other drivers only sat behind the wheel in long-distance races in which a change of driver was mandatory. Eckhard Schimpf contested 84 races with this car in 1974, 1975, 1976, 1977 and 1978. He was on the starting grid in numerous hill-climb races and on nearly all the German circuits (Nürburgring, Avus, Hockenheim, Diepholz, Mainz-¬Finthen airfield, Kassel and Sylt). Likewise in many European hill-climb championship races in Italy, Spain, France, Austria and Switzerland. Schimpf, together with Edgar Dören, was category winner and seventh in the overall classification in the 1000-km race on the Nürburgring in 1976.
This Porsche Carrera RSR was sold to Erich Schiebler (Munich) in 1979, went to Hong Kong in 1980 to Helmut Greiner (who won the Macao Grand Prix with it), and finished up with John Byrne in California in 1983. In 2015, this special Porsche Carrera RSR was re-acquired from him, with whom Eckhard Schimpf has had a friendly relationship for many years. John Byrne generously remarked: "The car should go back again to where it belongs. In the Jägermeister racing stable."
The Kremer team in Cologne entered another Porsche Carrera RSR in Jägermeister colours in the German Motorsports Championship in 1975. It was driven by Helmut Kelleners. Together with Hans Heyer, he gained the GT victory in the Kremer RSR in the 1000-km race on the Nürburgring in 1975 (placed 8th in the overall assessment). Willi Bartels also drove a Jägermeister Carrera RSR from 1974 until 1977. He became European Hill-climb Champion with it in 1976.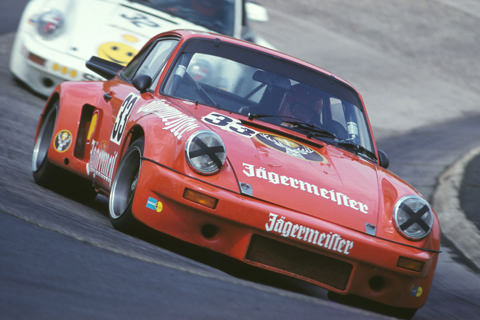 Details
Weight: 800 kg
Capacity: 3,0 Liter
Power: 350 PS
Top Speed: 290 km/h
Vehicle is in stock of '72STAGPOWER.
Pilots
Eckhard Schimpf
Edgar Dören
Helmut Kelleners
Hans Heyer
Derek Bell
Toni Fischhaber
Romain Feitler
Willi Bartels