Kurt Ahrens was among the most successful racing drivers of the nineteen-sixties. Nowadays he is one of the regular visitors who comes to '72STAGPOWER's workshop regularly to "talk about cars".
Kurt Ahrens was born in Braunschweig, the son of a motorsports racer who was formerly also very well known. Ahrens junior was German Racing Champion three times (in 1961, 1963 and 1965), and winner of the European Cup in 1967. He was also for many years in the forefront in private Brabham models in Formula 2, in which the absolute Grand Prix elite were at the start. He stood alongside Jochen Rindt on the "podium", and with Pescaolo, Ickx, Siffert and others. Just reading something like the 1968 London Trophy 1968: at the finishing line – 1st Ahrens, 2nd Redman, 3rd Regazzoni and 4th Rodriguez, shows the form Kurt Ahrens had at that time. The International Automobile Federation (FIA) classified Kurt Ahrens as a "world class driver" from 1968 onwards. The list comprised only about 25 names.
Ahrens drove Abarth, Brabham, BMW, Mercedes and Ford works cars. But the crowning period of his career was as a works driver for Porsche. He won the Austrian Grand Prix in 1969 together with Jo Siffert, thus securing the first victory for the legendary Porsche 917. Ahrens also won the 1000-km race on the Nürburgring in 1970, taking turns with Vic Elford at the wheel of a Porsche 908. He retired from racing at the end of 1970 – at the age of just 32.
Another thing that makes Ahrens an exceptional type is the fact that he rejected a Formula 1 career. He would have been able to drive for Brabham with Jochen Rindt, but refused. The reason: frequent journeys all around the world and the constant testing – he didn't want that. So he always "only" drove in the German Grand Prix on the Nürburgring (1966, 1967, 1968 and 1969). He was seventh in his private Brabham F2 in 1969, and in 1968 he climbed into a Brabham Formula 1 and finished 12th in what was a chaotic race in fog and rain.
When the Jägermeister Racing Team was founded in 1972, Kurt Ahrens was the first driver to receive an offer from team boss Eckhard Schimpf. Ahrens wavered. Should he re-enter? In a Brabham, March or Lola? He asked for time to think it over – then turned down the offer. Too many of his former competitors had by now suffered fatal accidents. Ahrens said: "I just wanted to survive."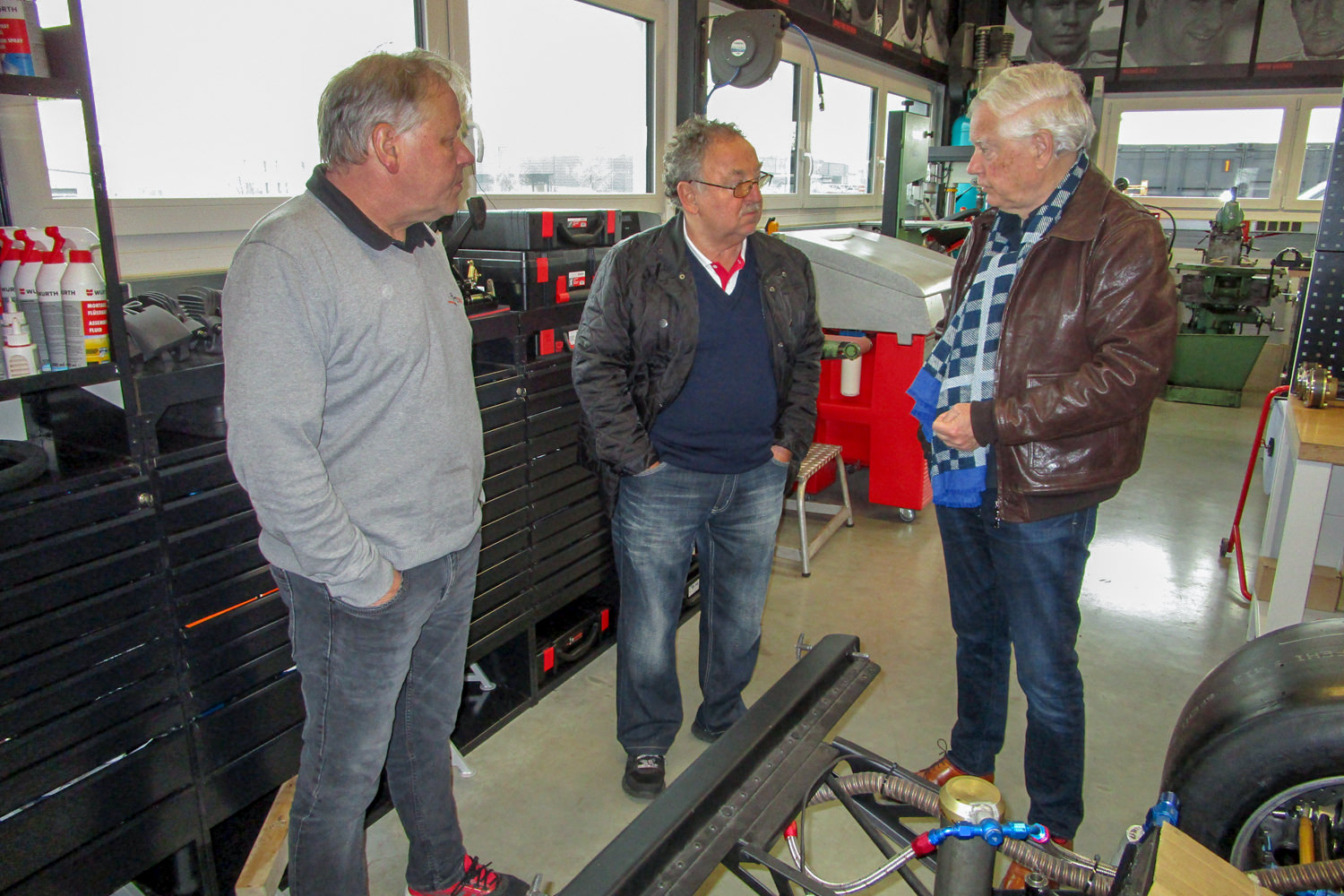 Kurt Ahrens in conversation with Michael Groth (l.) and Eckhard Schimpf (r.).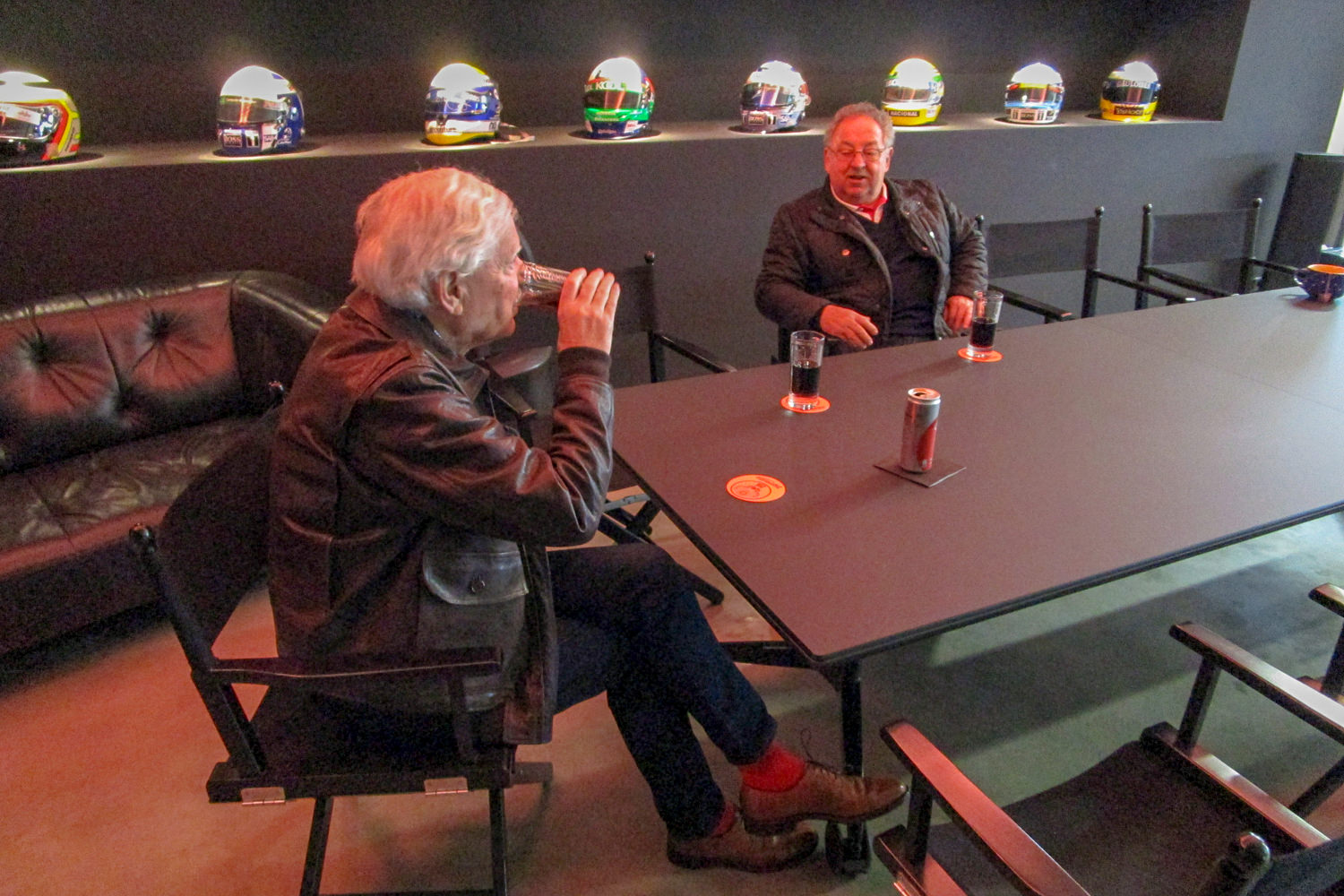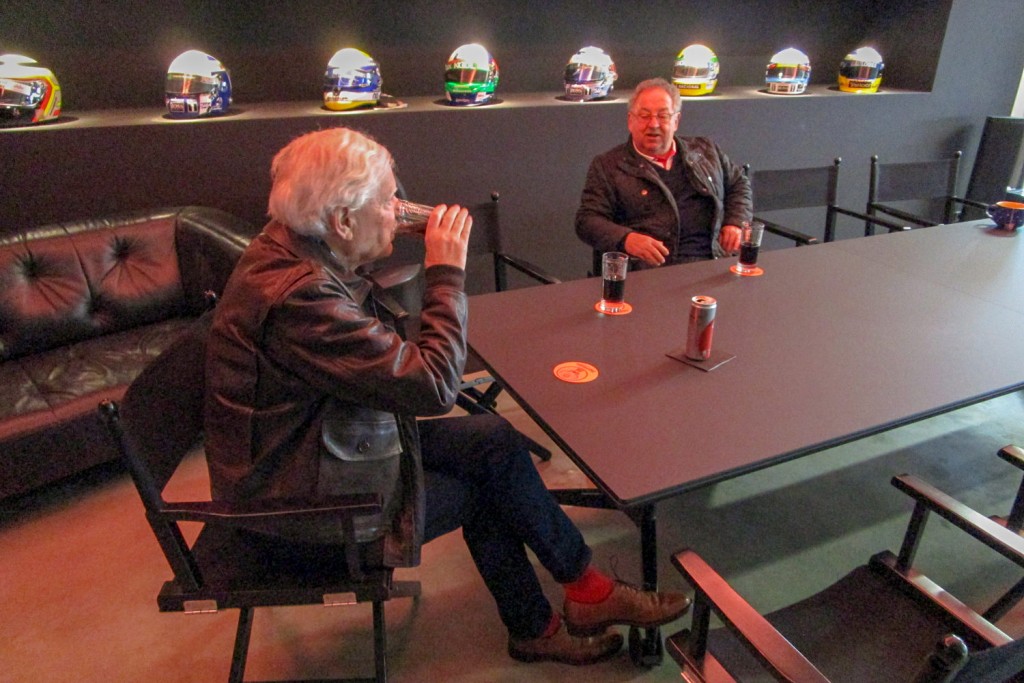 Gossip between Kurt Ahrens and Eckhard Schimpf. Neither of them ever runs out of topics for conversation. By now they have known one another for 60 years. Ahrens was Schimpf's co-driver in Alfa Romeos and Porsches in various rallies in 1958, 1959 and 1960.